Marine Audio & Electronics
The isolation from the world, the beautiful landscape, and the sound of the lapping waves against the hull are great for clearing your mind.
Marine Audio
What's better than lounging on your boat on a beautiful summer day? How about enjoying your favorite tunes on a high-quality sound system. Here at Sounds Good Stereo we can outfit your favorite sea vessel with top-notch sound systems specifically built for marine environments. Just imagine kicking back and enjoying the sun with your family, friends and top-notch sound quality. Our marine electronics can transform your boat into a party lounge, or a serene relax session if you prefer. Our solutions are perfect for all types of watercraft from speedboats, fishing boats, ski boats, house boats, yachts, pleasure cruisers, and more. With our marine audio electronics and professional installation, you get all the quality of a cutting edge car audio system. Whatever you use your watercraft for, our top grade audio marine speakers and equipment are a perfect solution to make your adventure much more enjoyable. So what are you waiting for? Come by and peruse our fine selection of quality and reliable marine stereo equipment today and see for yourself what makes Sounds Good Stereo the go-to source for all of your vehicle audio solutions in Hollywood-Fort Lauderdale, FL, on land and water!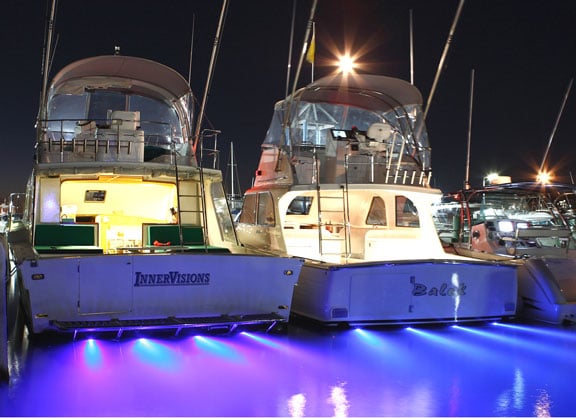 Marine Lighting
Here at Sounds Good Stereo we offer a great selection of marine lighting for nearly any application. Our LED lights are durable and provide low power consumption. LEDs are the perfect solution for your marine lighting needs. They are perfect for cabin lighting, night time fishing, underwater lights, work lights, safety, or if you simply want to make yourself stand out. Since LEDs run on very low power, this results in low battery drain. Not to mention they look fantastic cosmetically. So why worry about heading back to the dock or marina at sunset? Keep the good times going with our wide selection of marine lighting solutions.
Our Premium Brands we offer
Factory certified & trained for the following brands.
The highest standard of installation & service
Our trained staff provides the best installation & service in the Miami, Hollywood, West Palm Beach, Weston, & Fort Lauderdale areas.
Customer Service
Our customers are our number one priority. We do this through constant communication, honesty & taking pride in our work.
Local Facility
We are conveniently located in Hollywood / Fort Lauderdale, FL to answer any questions you may have before & after your purchase.
Professional Installation
Over 30yrs of professional installation on thousands of vehicles & continued training sets us apart from the competition.
Limited Lifetime Warranty
We offer a Limited Lifetime Warranty on our labor & offer the best products in the marketplace to ensure a long lasting aftermarket upgrade in your vehicle.