Hands-Free Bluetooth
Our Bluetooth solutions allow you to control your wireless devices and eliminate those pesky wires. Doing so has many benefits including voice-activated control so you can make and receive calls, pause media while taking a call, resume media once your call has concluded, change volume and tracks, and much more. But what if you wish to keep your existing in-dash head unit? No worries! We offer stand-alone Bluetooth options that can be integrated into your factory unit and you still get the same great benefits. Our professional installation technicians can mount your device and install charging stations. Imagine, no more fumbling for your device - you have all the safety and convenience of controlling your favorite mobile device without even touching it. With advancements in Bluetooth technology, you can enjoy the full range of functionality, connectivity, and your device's capabilities. All while keeping you and your device safer while traveling.
Audio Streaming
Another awesome benefit of integrating your mobile devices into your vehicle is audio streaming. That's right, you get the ability to stream your personal media collection or popular apps such as Pandora, Spotify, iHeartRadio, and more! you can even stream from multiple devices in the vehicle. Say goodbye to bulky CD carriers and changers. Even if voice control is not your preferred method, if your vehicle has them we can use your factory controls on the steering wheel and integrate them so you can control your media right from your steering wheel.
Integrated Head Units
Here at Sounds Good Stereo we offer top quality head units that are loaded with options. For example, some of our units have Wi-FI connectivity to retrieve media and navigation tools such as Garmin smartphone integration. GPS access has never been this easy! Some units allow you to directly control your device via the in-dash unit screen, also known as smartphone mirroring. Some of our more advanced units can also retrieve media information like track info and cover art. Another recent advancement in car audio technology is the ability to connect your HDMI compatible smartphone directly to certain Kenwood radio receivers via HDMI so you can enjoy your favorite shows, movies, and videos on a gorgeous in-dash screen. Speak with one of our experts to learn more.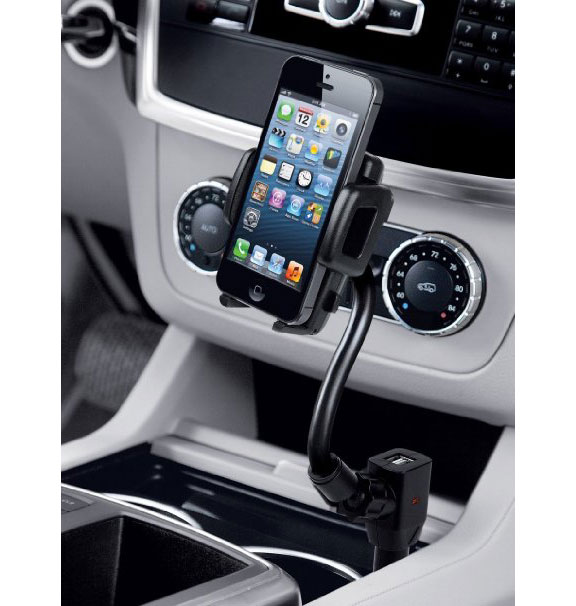 Apple iPhone Integration
Most newer aftermarket head units come with Apple product integration for iPod, iPad, and iPhone control. Combined with Siri Eyes Free and Bluetooth you can experience hands-free control over your mobile devices. With Apple's CarPlay iOS integration feature, the iPhone can project onto the dash unit display for phone functions, messages, music, and even navigation. Similar to Apple's integration, most of our advanced head units also allow for Android integration. This is accomplished with Bluetooth and Android Voice Command. Apple and Android vehicle integration adds unparalleled convenience to your everyday travels. GPS, Drive EQ, screen mirroring, media streaming, and hands-free control all help you stay connected on the go. A breakthrough technology utilizing HDMI and SPP (Serial Port Profile) allows your device to be controlled seamlessly. The device is charged via USB port, and the universal MHL adapter is charged by the HDMI port so you're always charged and ready to go.
Google Android Integration
Most of our newer aftermarket head units have built-in Android product integration. Along with Bluetooth and Android Voice Command, enjoy hands-free control over your favorite devices. With our select units, Android vehicle integration allows the device to take over the dash display for navigation, phone functions, messages, and music.

Android vehicle integration adds everyday convenience to your travels by allowing you to stream content, hands-free voice control, screen mirroring, Drive EQ, and GPS options. Always stay connected with your device and vehicle with our professional solutions. HDMI also adds an entire new aspect of connectivity for Android with Kenwood receivers. Controlled by a seamless Bluetooth connection using SPP (Serial Port Profile). The Android device can be charged via USB port, and the universal MHL Adapter charges via HDMI port. So never worry about battery life while on the go.
Our Premium Brands we offer
Factory certified & trained for the following brands.