---
Why Choose Sounds Good Stereo South Florida?
---
Your premier automotive customization facility located in Hialeah, FL
---
Here at Sounds Good Stereo we feel that customer service an art form. We know that if you treat customers well and make a special effort to please, they come back; tell their friends; and maintain a long-lasting relationship of loyalty.
Our trained staff can handle any situation from custom fabrication to advanced OEM integration into the latest vehicles. We pride ourselves on staying up to date on the latest technologies, installation techniques & electrical data systems in today's vehicles.
---
Expert Advice
Our knowledge is our biggest asset!
---
Quality Products
We stock some of the best brands in the world!
Pro Installation
Our techs are among the best in the world!
---
Customer Service
We will always be here for you. Before and after the sale!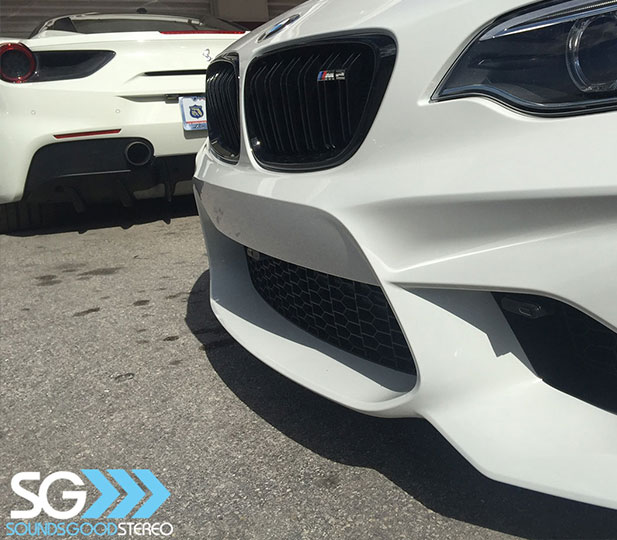 Sage is one of the best installers I know, with years of experience there is Nothing this guy can't do when it comes to car audio! Best shop in Miami!

Hands down the best in town. It's obvious why anyone with a high end or exotic vehicle goes to Sage for their work, he's second to none.

Even though this place always seems to be closed you have to drive in to the back and enter their nice little office. These guys at least in my experience get things done. They love what they do and are passionate about perfection. I brought in my car for a new stereo and was not pushed into buying it from them. Instead I went online did A LOT of research and purchased it myself on Amazon. I bought a rear camper and the mount along with the labor from them. The job was completed quickly once the parts had arrived. The price was fair and now I have an awesome stereo. Nice job guys!

We came to see Sage this past Friday after speaking with him on the phone multiple times and at night regarding a problematic prior install from another company.  Fortunately the other company pulled the system and refunded us and it was nice and fresh for Sage to show us what a sound system should sound like. He asked us multiple questions regarding the type of music we like, volume levels, etc and had us listen to a few different speaker pairs. We just picked up the car today and our review can be summarized into two words: holy cow!!!  Not only does it sound awesome as is, but he is eager to fine tune is as we get more time with it, if needed. The wiring is a pleasure to show off, the sub box was custom built and fits perfectly under rear seat and incorporates the curvature of the seat bottom so from the sides it looks like a factory install. Fortunately it isn't, because the upgraded factory system is the reason we decided to upgrade. We are giving Sage and his team 5 stars, only because we can't give him 10 on Yelp!  Needless to say, we will be repeat customers.

I was looking for a good installer and some equipment after doing a lot of research. I walked in to Sounds Good Stereo and immediately hit it off with Sage. He is extremely knowledgeable and very helpful. I set up an appointment and WOW!! I love my system. The install work exceeded my expectations and the sound is incredible. I could not be happier.  I will go to Sage first in the future and recommend him to all of my friends. Thank you Sage and staff, I am very pleased.

Great selection if high end gear and a super knowledgable staff with some serious fabrication talent. Sage and the guys are the best in the area and one of the only shops I'd trust to do things properly!

i went there, to be honest because was really close from were i live,  i got there and guess what, couldn't be more happy with the results,  they changed the dash kit in honda accord 2010 installing a double din unit, now the steering wheel control work even with an after market stereo, they said 2 hours and yessss, was no more than the time they promised, at the office Carlos was really nice, and the guy doing the job was JONY is a beast, if u want quality and fast, thats ur men, i recomend this place to everybody, for sure im coming back

Absolutely magnificent quality and sound. Great customer service and overall very caring employees who genuinely care about your car. Very impressed and will be back for my next project. Many thanks to Sage and his crew for an excellent job!

Great Work .. Very Clean .. Great Prices.. ! Would definitely recommend ! Thank You !

Extremely knowledgeable and honest people. Fantastic and clean installation. i would never take my porsche anywhere else.

Great service, Fast and very clean they always know how to help the customer

Top notch installer with great audio products. After much research I took my car here for audio upgrades and was very pleased with the work performed.

For your high end car audio needs... this place is the best in Miami. If you had less than a fantastic experience with the prior owners, DON'T FEAR, Sage is here!The new owner Sage goes above and beyond with what others call "sufficient". He is meticulous in his work, does more than what he says and does it in a friendly manner. He completely reinstalled the sub par work that previous owners had performed all "in good faith" for his costumers. He did such an amazing job that I can't say enough... Go see him for JL AUDIO, Focal, etc.  THE BEST, keep it up boys!

Outstanding service.  I called them to do the install on my new car stereo.  It has a bluetooth mic that needed to be installed on the visor without making a mess with the wires.  They were able to fit me in that afternoon.  1 hour later (as promised) my car had a seamlessly-installed new stereo that worked perfectly.  They even took the time to walk me through its different functions.  Staff were friendly; work space was clean and professional.  I would not hesitate to recommend them, or to use them again.

The guys here are professional, helpful above the call, and honest.  I"d recommend anyone to come see them.  They even took me to the nearby Starbucks and picked me up there afterwards.  Great work, great stereo, very happy.

These guys are absolutely the best. I had them install a p3 12" in my Audi S4. They build the enclosures for subwoofers to fit perfectly, and installation is simply flawless. Prices were entirely fair ( I searched a lot for cheaper prices ) and they even saved me 100$ even after I had agreed to pay it. They surprised me with an Audi logo embedded into the outside of the enclosure! I am very pleased with their work.
Justified Image Grid: The Facebook content cannot be displayed, the error from Facebook: Error: OAuthException Code: 100, (#100) Object does not exist, cannot be loaded due to missing permission or reviewable feature, or does not support this operation. This endpoint requires the 'pages_read_engagement' permission or the 'Page Public Content Access' feature or the 'Page Public Metadata Access' feature. Refer to https://developers.facebook.com/docs/apps/review/login-permissions#manage-pages, https://developers.facebook.com/docs/apps/review/feature#reference-PAGES_ACCESS and https://developers.facebook.com/docs/apps/review/feature#page-public-metadata-access for details.
---
AUTHORIZED DEALERS FOR THE FOLLOWING BRANDS